Are you team merrow or team heat-cut?
No matter which one are you, this article will break down all the differences between a merrow and heat cut border in an embroidery patch.
A borderline might not be compulsory, but having one gives a better appearance and amplify the durability of a badge. It prevents it from fraying or unraveling. For embroidered types of badges, two borders are the most popular and in use: a merrow (overlock) and heat cut (hot cut).
Dissimilarities Between a Merrow And Hot-Cut Edge In Embroidery
Excited to get acquainted with all their dissimilarities? Wade through till the end to not miss out on anything.
A Merrow Border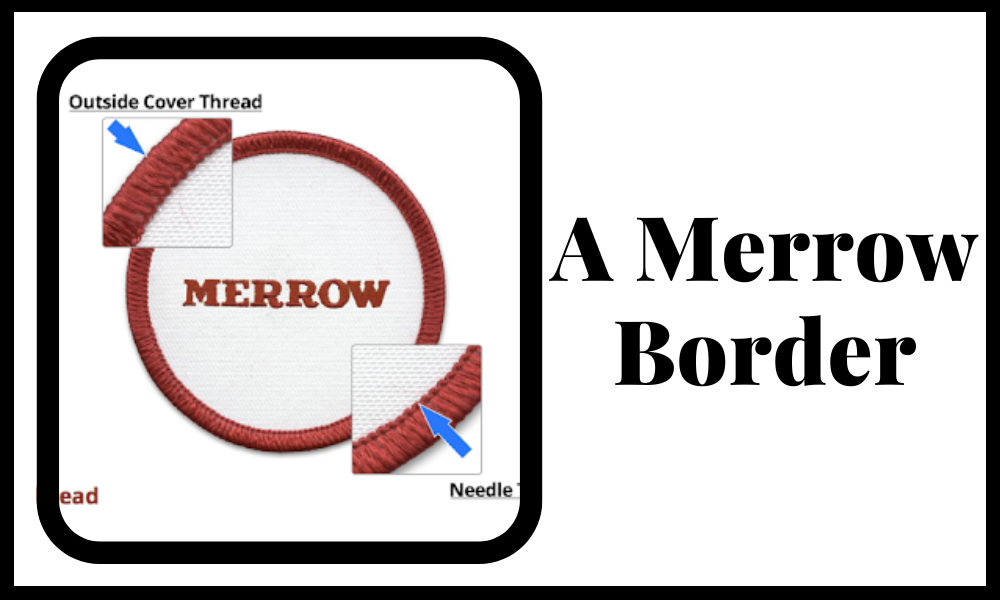 1. Definition
A merrowed borderline is a bit on the heavier side and it is sewn on the exterior edge of custom badges. It can be found in more simple shapes such as circles, ovals, and spheres.
2. Quality
The over-lock edge has taken the lead over the other option as it is proved to be more durable. It provides the best protection against shredding. It is used for all types of high-quality embroidered patches such as 3D embroidered emblems, applique, chenille, sequins, and toothbrush embroidery.
Some other types in which it is used are chain, crosstitch, woven embroidery, sublimation printing, screen printing, and bullion badges.
3. Appearance
Not just that, it also has a more aesthetic appearance if looked at from both sides and the front side. It is more suitable for emblems that have simple and less complicated shapes, such as rectangles, circles, triangles, shields, et cetera. This can also be hemmed with beautiful decorative lace to make the emblem more eye-catchy.
It is the standard for embroidered patch edging. It would give a rounder and bigger edge similar to the piping around the badge. The hues of the borderline might differ from the entire insignia of this type.
4. Price Factor
This option is slightly costly as it is relatively thicker and has a width of 3mm. It also requires special machines in the manufacturing process which is another reason for its high price.
5. Uses
The overlock borderline is used for emblems that have plain or symmetrical shapes with no sharp sides. It is famously used for badges in the military, scouts, police, sports teams, government, sheriff, firefighter, biker, club, school, and company.
As it is perfect for everyday use, therefore business workers, organization members, motorcyclists, and bands also consume it. Martial arts, security, college, navy, church, hockey, football, and baseball players are also involved in the usage of over-lock type.
6. Background
The background used for this overlock type includes twill, reflective fabric, cotton twill, velvet, satin, leather, vinyl, woven fabric, and sublimation printing fabric. Other types used for the background are camouflage, mesh and lace, denim, and toweling.
7. Threads
Threads used in the manufacture of overlock edges for custom embroidered patches are 100% polyester, metallic, fluorescent, and Glow-in-the-dark threads.
8. Backing And Accessories
The type of backing and accessories that goes with the overlock type are iron-on, plastic, self-adhesive, hook side + female side, button loop, metal pin, and magnet.
9. Numbers Of Colors Used Per Border In Embroidered Patch
Usually, nine colors are used for the standard level, but the colors of threads can extend up to fifteen depending on the price.
Heat Cut Border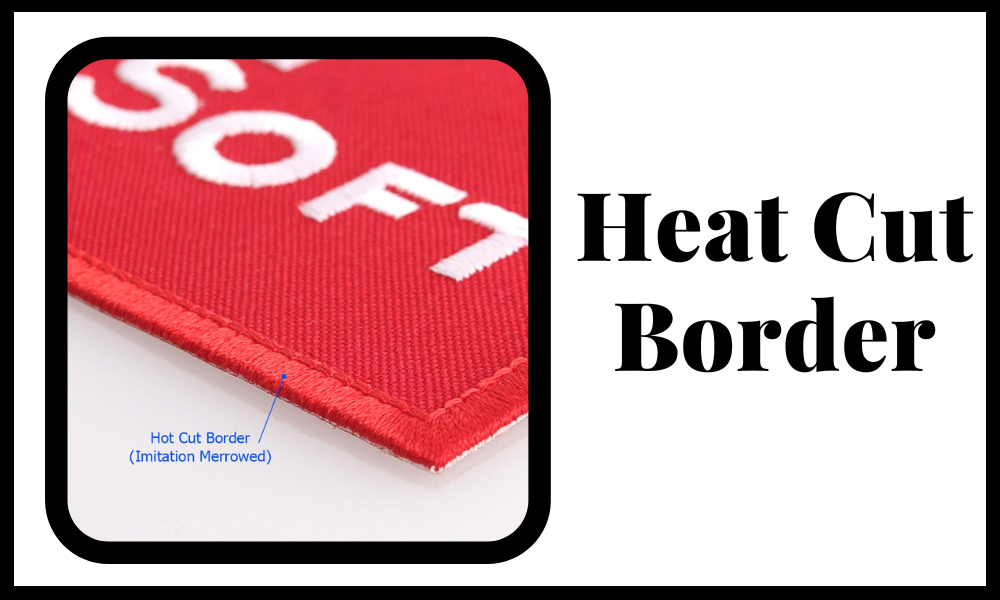 1. Definition
The heat cut is a basic, simple, thinner, and flatter borderline which is removed using a hot knife that is used to seal the peripheral edge.
2. Quality
This one is less long-lasting if compared with the above option. It is best for smaller emblems. One of their drawbacks is, at times, it fails to give off a finished look from the sides.
3. Appearance
This one look greater than the small-sized patches. It is the best solution for abstract and messy shapes. In this type, the frame is monotonous to the rest of the emblem as they both are made from the same thread. Go for this option if you want to get a delicate edge that is thin and flat.
4. Uses
This one is popularly used by companies for their logo as well as for artistic uses. You would notice several great rock stars wearing emblems on their jackets and jeans as a form of fashion statement. The use of it is greatly increased in the fashion industry.
Wearing them onto clothing has become old-fangled, you would notice fashion enthusiasts stepping up the game of white sneakers. They are using insignia with heat-cut edges on their sneakers to take it to next level of hotness.
5. Price Factor
If you are on a tight budget for custom football badges, then go for this type as this has a more affordable rate. Why? Because it has a thin edge of 1mm and also doesn't require any special machines in the making.
6. Background
In this type, the background is of twill, velvet, PU, and reflective types.
7. Threads
The thread used is made up of polyester yarn, cotton yarn, metallic thread, et cetera.
8. Backing And Accessories
Heat cut is used in the badges that either don't require backing or have an iron-on, adhesive, paper coating, Velcro loop and hook backing.
9. Numbers Of Colors Used Per Border
For the standard level, up to nine colors can be used in the making white additional color can be also added. However, additional hues added above the nine would require extra charges.
The Final Thoughts
We have discussed both types of borderlines in detail and now is the time to conclude everything. By wading through this post, we hope you have got a better understanding of each factor affecting both kinds of borderlines.
Now answer the question that we asked in the introduction of our article: Which one is better for the embroidered badge? The answer depends on the usage of an insignia. Suppose, if the badge is going to serve in the army or police then the maker should go for the merrow border. However, if it is being customized for the jacket of an artist, the manufacturer should opt for heat cut borderline.
This was the opinion from the author's perspective. We would love to know the answer from your perspective. So, feel free to share with let us know in the comments section below.